How do you feel about your name?
Do you absolutely love it? Do you jump out of bed every morning because if someone asks you what your name is, you get to say, "My name is [insert awesome name here]?"
No? It's not like that?
Perhaps you're ho hum about your name. You could take it or leave it.
Or maybe you actively dislike your name. Maybe you taunt it behind its back or throw spitballs at it when it's not looking.
Personally, I've been through all of these phases – from absolute adoration to secret loathing.
And it all started with a cow.
My birth name was Elizabeth. It means devoted to God.
I was an atheist as a child, so whenever I heard the definition of my name, I would chuckle.
Now I know that the Universe was chuckling as well.
In spite of my holy name, no one ever called me Elizabeth. Instead, I went by the nickname Betsy.
Here I am in all my Betsy glory:
Actually, there was one person who refused to call me Betsy. My paternal grandmother, Margaret Bruce Egloff, insisted on calling me Elizabeth. Or Miss Elizabeth.
When Margaret Bruce was a little girl in Boston, a local dairy company had a contest to name the cow on the company's logo.
The name that won?
Betsy.
No way was she going to have a granddaughter named after a cow.
So she stuck with Elizabeth.
To everyone else, however, I was Betsy.
Or Betsy Wetsy. Or Beatser. Or Bets. Or Mudbutt (don't ask).
As a kid, I didn't think about my name much. It was just my name.
It was a fact of life, like my big feet and my left-handedness.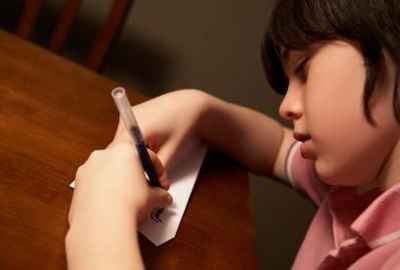 But everything changed when I was in my early twenties.
For the first time in my life, I had the opportunity to live alone. I was in my own space, all the time. No one else's needs to worry about. No one else's needs to adapt myself to.
For the first time ever, I was fully aware of my own energy. My own preferences. My own beliefs.
And then one day, out of the blue, I had a revelation. If I had to put it into words, it would go something like this:
I am in between. I have a female body, but I am both male and female. Energetically, I am both.
It was the first time I had fully acknowledged this. It was the first time I could, because I was finally aware of it.
Did I immediately run out and declare this to the world? Did I adjust my external appearance to match my internal revelation?
Yes and no.
I was working on a farm at the time. Looking back on it now, one of the reasons I was drawn to this work was because it meant I didn't have to dress in the female drag of the corporate world.
Here I am, tending to the crops:
As the years went on, I inched further and further out of the transgender closet.
(A little lesson in terminology, for those who aren't already in the loop. Transsexualism describes those whose identified gender does not match their biological gender. Someone who is transsexual will often choose to take hormones or have gender reassignment surgery so their gender identification can match their biological gender.
Transgenderism, on the other hand, is an umbrella term used to describe anyone whose gender identity and gender expression strays from conventional expressions of gender. Transsexuals are in this group, as well as those who identify as genderqueer, third gender, or a host of other identifications.)
My willingness to embrace my transgender identity came to a head one day when I went to the Center for Spiritual Living Santa Rosa.
It was "Name Tag Day" at the Center. Everyone who entered the sanctuary was invited to fill out a name tag and slap it on their chest.
(Okay, maybe not slap it on. More like: Gently facilitate the name tag's journey from the table to the physical body. Like that.)
I did as I was told, picking up my pen and writing "Betsy" on my name tag, then placing it on my chest. I even got so far as walking to my seat and sitting down with my friends.
But it didn't feel right. My name no longer fit.
My friend, Deb, listening to me sort out my conflicted feelings, got up from her seat and came back with another name tag for me.
One that said "Z."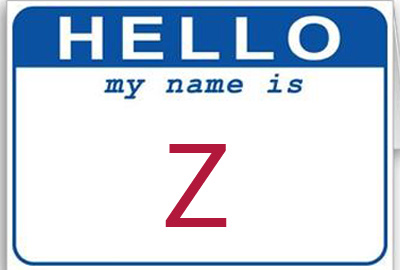 I had been pondering a name change for months. Z was my nickname in college (Bet-z), but I'd let it go. Now I was beginning to realize that "Z" was the perfect name for me.
It's not male. It's not female.
It's both. It's neither.
It's weird. It's awesome.
It's my name.
And in that moment, after Deb got me my new name tag, I finally accepted and embraced this truth.
I've been Z ever since.
I even legally changed my name so I would be fully and completely Z.
(But not Zee. That's a paper product company. I like paper. But not that much.)
When I was going through the name change process, I kept Elizabeth as my middle name, in honor of my parents. And my grandmother. And that whole devoted to God thing.
And that's how it happened. That's how I went from Elizabeth to Betsy to Z.
I know many of you have had similar journeys – whether with gender identity or name identity or both. I'd love to hear them.
How do you feel about your name? Does it match who you are? Why or why not? Share your comments below!
Wanna support Life in Z-D? Click on the Donate button above! No amount is too big or too small. Thank you!