LISTEN, CHANT AND MEDITATE YOUR WAY TO THE CHANGE YOU DESIRE!
OhMyGod Radical Transformation
Have you been longing to transform some part of your life… and never quite been able to do it?
Perhaps you've been hungering for:
More joy, peace and harmony in your life
A closer connection with your loved ones
More fulfilling friendships
The confidence to try something new, exciting and a bit scary
The will power to create healthy new habits
The courage to express your bold, crazy, wild self
If you've been wanting any of these things — and haven't been able to make them happen after months, years or even decades — please don't be hard on yourself!
Here's why. If you could have made these changes happen, you would have.
Something is in the way of your having what you want. And more often than not, that something is a limiting belief from your past.
Limiting beliefs may seem like flimsy barriers to happiness and self-expression.
But they're not. The fear, shame, procrastination and negative thinking these toxic beliefs produce create unconscious roadblocks between you and your heart's desire.
OhMyGod Radical Transformation will help you break though them.
You'll learn how to completely change your thinking, feelings, and experience in whatever area of life you apply it to — relationships, work, health, your kids, self-esteem or confidence, finances, or even your spiritual life!
A proven formula for transformation that combines ancient wisdom + modern chants
We know this program works because we've both used it to create huge changes in our lives and have witnessed the impact it has had on others.
In fact, the guided meditation that is the centerpiece of the program is from a powerful practice based on ancient Toltec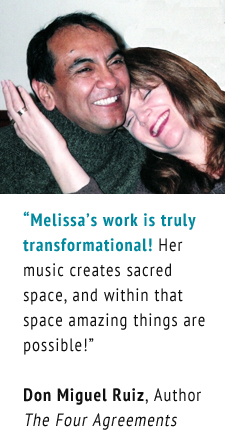 wisdom that Melissa learned many years ago while working with her mentor, Don Miguel Ruiz, author of The Four Agreements.
The practice will help you transform your consciousness, eliminate toxic beliefs from the past that are holding you back, and replace habitual reactions with skillful and successful responses. That's why we're so eager to share it with you!
To amplify the guided meditation's power, Melissa created two chants for you to sing (or just experience) — one before the guided meditation and one after.
Chanting does wonderful things for the body. Research shows it oxygenates cells, lowers blood pressure and heart rate, reduces stress hormones and increases endorphins (our feel good chemicals).
Chanting has also been used since the dawn of time to transform consciousness. Yet many powerful chants are in a foreign language. Meaning, and the emotion it generates, are huge in changing consciousness. That's why Melissa writes her chants in English.
Old Feeling and A New Person — the program's two chants — will help you go deep, making way for the transformation you want to occur.
In this transformational online program, you'll:
Learn how to question the false stories you've been telling yourself
Go to the source of the wounds and negative beliefs holding you back
See your family of origin's impact on your need for love and belonging
Work with chronic stuck emotions like fear, anger and hopelessness
Be compassionate with yourself now that you know the truth
Allow authentic feelings to flow through you so you can heal
Update your story with the truth of who you really are (you're a miracle!)
Make an inventory of other negative patterns you can heal with this program
Celebrate the freedom, joy and expansion of becoming who you truly are!
What you'll receive…
The program is set up so you can do it at your own pace, using the learning style that works best for you — watching, listening or reading — whenever and wherever you want.
1. The Radical Transformation practice — as downloadable mp3s and a PDF transcript
1. Pre-chant meditation set up
2. Old Feeling Chant
3. The Guided Meditation
4. New Person Chant
5. New Person Celebration
2. A Quick Start Video to get you up and running quickly
3. The User Guide — an online video and downloadable mp3 and PDF transcript
Many people are ready to jump right into the practice after watching the Quick Start video. If that's you, go right ahead! If you want more background before you start, take a few minutes and watch the User Guide video.
The User Guide has a lot of important tips and ideas for getting the most of the practice, so make sure at some point to loop back and watch, listen or read it!
4. The Radical Shift Instructional Video— online video and downloadable mp3s + PDF transcript
You don't have to watch, listen to or read this bonus 57-minute module — which takes you deep into the background of the guided meditation and how it works — to benefit greatly from this program.
In fact, you might not get around to listening to it until after doing the practice many times.
When you're ready, though, you'll find that it's full of really helpful information and insights that will help you take your practice even deeper for the greatest results. We've broken this module into 5 different sections so you can digest it in small bites.
About Rev. Dr. Melissa Phillippe and Rev. Z Egloff
Both long-time students and teachers of consciousness and transformation, Melissa and Z have developed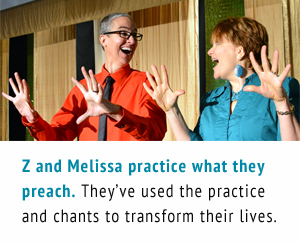 unique techniques and practices that create personal growth and expansion to improve individual lives and make the world a better place.
They have an on-line ministry at Oh My God Life! where they share their knowledge, humor and cartoons in their popular weekly blog posts. They speak and perform to audiences all across the country.
Both are licensed ministers with Centers for Spiritual Living and hold Masters Degrees in Consciousness Studies. Melissa was awarded an honorary doctorate from Centers for Spiritual Living in 2010 for her service in the music and healing arena. Z also holds a Masters Degree from J.F.K. University in Spiritual Counseling Psychology.
Make the changes your heart longs for.
Start your Radical Transformation today!
You get access to the program immediately!
---
OhMyGod Radical Transformation Practice + Chants
Everything you need to jump start your transformation!
7 videos, 11 downloadable mp3s, 4 downloadable PDFs
Only $49.97!